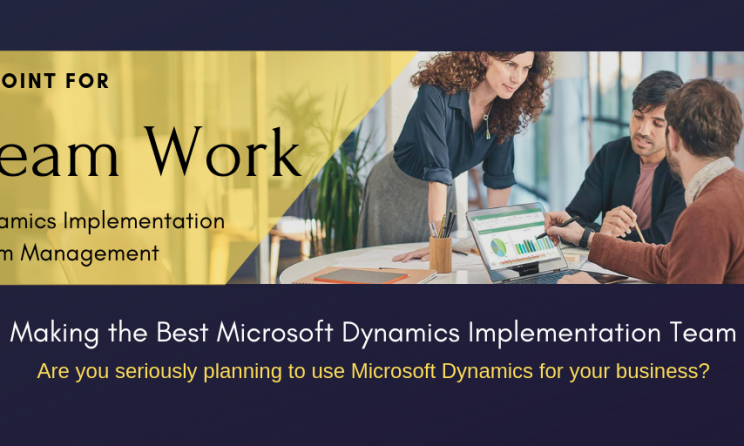 Are you seriously planning to use Microsoft Dynamics for your business? If you are that much serious about implementing MS dynamics, you must take an initiative to build your strong skilled dynamics implementation team to accomplish the goals.
Implementing any small or large software system is a critical responsibility for every enterprise and majority of them fail to accomplish it. This happens due to the negligence of certain important things and that includes the right team as well.
If a business wants to execute MS Dynamics implementation with success, it will require a strong team with technical and management skills. It's no embarrassing at all if a large enterprise is unable to install and configure any complex business software platform, such as Dynamics in-house. To implement even a brand new solution for business, there is a need of in-depth, product knowledge, which is why MS dynamics AX implementation services are made for.
An ideal project team that works on implementing Dynamics solutions should have different people with different skills; some with specialized implementation skills, some with proper knowledge of client business, some with extraordinary management and organizational skills.
You can make a well-balanced team for your company by following some tips shared in this article.
Understand and Know Who to Appoint For MS Dynamics Implementation Team
Set your clarity about what skills and proficiencies you are seeking for building a strong dynamics implementation team.
Your size of the company, department numbers, and implementation complexity (customization) are few key points to start with before staffing your project team. When you have the right facts and figures in your hands, you find no difficulty in deciding the next step.
Basic things to look into any team member-
Proactive
Positive
Dedicated
Management skills
Multi tasking
Team working
Since you will need a team for implementing MS dynamics solutions, you must get the people with these basic skills because they have to work with team and will share joint responsibility. If you overlook any of these must-haves for your team people, you cannot take the step ahead successfully.
Qualities Of a Great Dynamics AX Consultant Company

Microsoft Dynamics AX is an enterprise resource planning (ERP) software program for large- scale businesses. Dynamics AX, targeted mainly by production-based businesses, helps manage tasks commonly performed by marketing, sales, human resource, and finance departments.

As you cannot select your chief executives, you still have power to choose your core project team. Here are some important roles that help define business goals-
Implementing any software is a complex thing that happens to every business. Involving people with the plan and vision helps making implementation success rate higher. However, sometimes this fact doesn't work at all when it comes to large scale businesses. It is because in such companies, C-level executives fall short of time to oversee a critical responsibility like rolling out the new software.
It is still important to have executive sponsor at the head of the project to interlink the thinkers and the doers. The person sits at the top of the project chart and works as a link between the core project team and steering committee.
Function of executive sponsor throughout the deployment of software-
Provide Oversight
Leadership
Guidance
It's not necessary for executive sponsor to have technical knowledge about software, but the person should have proper understanding of the things expected from the new software and its overall impact on business.
Implementation Project Manager
You can call executive sponsor to sign off on expenditure, or send messages to the steering committee, there are still lots of things to do for project manager. Jobs of project manager are to – direct, delegate, and accomplish the plan.
Project Manager is the person who need to work closely with each member of the Microsoft Dynamics  AX implementation company, including consultants, external vendors, and developers.
When your management element gets fixed in the team, you need to work with technical team members to choose the product expert. The person will translate your vision into core plans, install the software and configure it according to your requirements and develop the missing aspects (if any).
This solution architect person is also known as a product manager or business analyst in some companies. Main function of solution architect is to-
Ensure that customer gets the exact solution
Work with every department to understand their working
Find out what else is required to make team stronger
Examine the plans
Functional Consultant
Functional or application consultant is a same person that takes the project ahead once the job of solution architect is over. This person is responsible for making final plan delivery designed by the solution architect by setting up and configuring the software.
The person appointed as functional consultant should have in-depth knowledge of the dynamics platform that is being implemented, and he should be able to find out how to configure capabilities of the platform to meet end user demands.
Things functional consultant need to do-
Draw up the documentation
Take all the earlier prerequisites
Map the functionality of the solution
Prepare plan of action
Secure solution
Technical Consultant
While your other team members give their best efforts to the project, you will still require a technical consultant since there is no "one size fit for all solution" available in the market. Your technical consultant will work with his technical and functional knowledge about the application software. He will have good command on the development languages used for certain solution.
Both the solution architect and technical consultant work as a team to find out the shortcomings within the dynamics software, customize the solution, and find out new ways to meet the requirements.
When everything in software is done, including installation, configuration, and other development work; testing is the next stage to get it prepared. There is no software in the store that gets listed without passing various tests. When you have a designated test lead on your Microsoft Dynamics AX implementation company, you get assured dynamics solution for the client. A test lead will take a close look at the testing plan to ensure no point is left untested and will test all aspects; functional and technical, of the solution.
Check infographics given below for better understand.