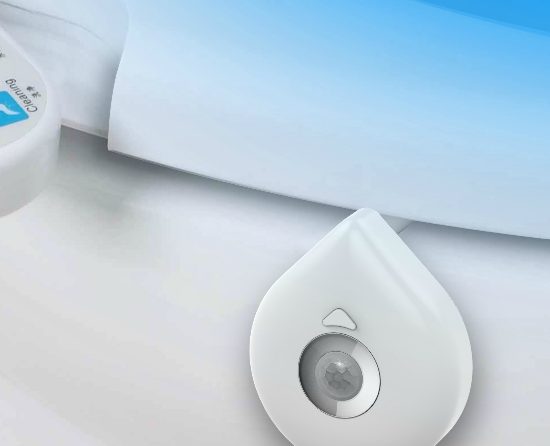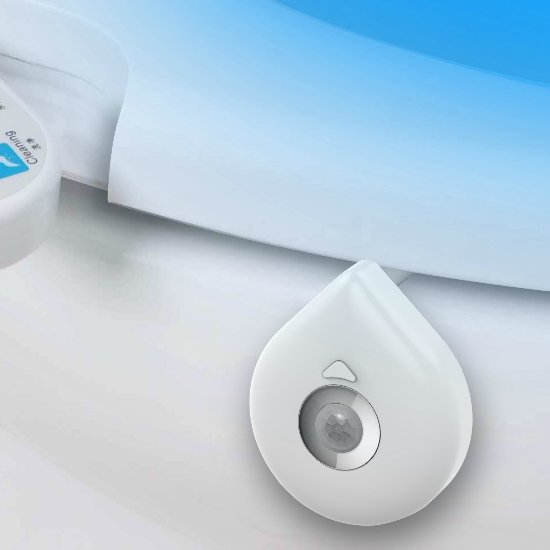 As a mother of two young kids, I am always looking on ways to improve our family life. Who wouldn't like to do so?  Save money, save time – spend it the way you love. My husband is pretty much the same – he will do anything it takes to ensure life goes on and it is as hassle free as possible!
Few weeks ago he has came across a product which he thought might help us to get one of our younger boys to start his own toilet routine. It was Goldmore night toilet light.
I was not too convinced when my husband purchased it off the internet. I simply thought it will be useless piece of plastic that I will just have to clean! But as it was already purchased, I had to give it a try and see myself how wrong I was!
#1. Few Words About The Product!
Toilet light was nicely and simply packed as you would expect from such product. Box consisted of users manual and the mentioned product itself. All I had to do to start using it, was to insert three AAA batteries and place it on the toilet bowl. I did find it very easy – toilet light has got flexible arm which makes it easy to fit it on any type of toilet bowl. Within minutes it was ready to use.
There was no cables attached to the product which made me really happy – as I thought straight away it will be safe to use, especially for the little ones. Round shape of the product together with neutral white color make it almost invisible on the toilet seat – so there is no worry that any décor theme will be negatively affected.
On the side of the toilet light, next to motion sensor there is a small clickable button, which allows you to chose color of the light you want –you can set it to one out of seven colors or use rotating function ( That is another feature of the night light which I thought was great !)
Bathroom toilet light is motion activated, using simple infrared technology which detects even the slightest move when the light conditions are within set guidelines. I thought  – great again – no need for parents to worry about lights being on or off – with two kids that's very convenient.
#2. Using The Product…
When it was all set up – we have simply left it for the whole family to test it while using. To start with – kids are finding it really exciting and it's encouraging their independence! Younger son has swapped his potty to the toilet as he loves the changing colors. Within couple of days he has become very confident on doing his bathroom business like an adult (I guess every parent would be proud of it – and so am I!)
Older son is also excited to use it. He always changes the color to his favorite blue before using. He said to me one day – " Mum, going to toilet is now much better and not boring anymore". I was really glad that two youngest members of the family liked the product.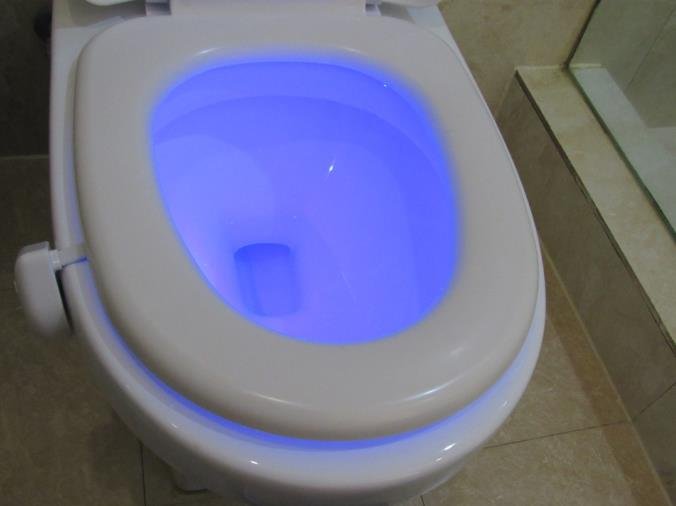 When it comes to my husband and myself – we love the fact that when visiting toilet at night, there is no need for disturbing flashing lights which very often wake others up. Gentle glow appears as soon as we open bathroom door, and after about couple of minutes lights deactivates automatically (I have checked it myself as wanted to ensure I won't have to buy batteries every week…)
The light was bright enough to see clearly, but not too bright to get you out of sleep mode. As it is equipped with LED it is capable of lasting over 50000 hours. And it's a real conversational piece – we get compliments from surprised visitors every time.. haha! And after all.. it doesn't need that much cleaning!
#3. Final Verdict
We have been  using it for over two months, and so far we did not find any negatives. Goldmore night  toilet light seems to be very good value for money – costs less than $20 and for such a value- you can't complain. Overall, product does exactly what it is designed to do – it brightens your bathroom and gives you bit of excitement at the same time when you spend time in your toilet.
Buy the way, I bought it here.
Save
Save
Save
Save