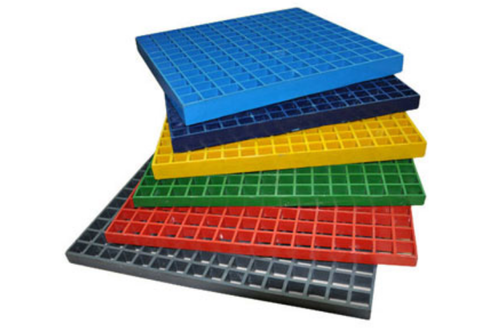 Fiber reinforced plastic grating is also known as fiberglass grating. It is a composite material which is made up by mixing a matrix of two products i.e. resin and fiberglass. FRP grating is used in the corrosive environment because it does not corrode like steel grating which helps in reducing the cost of maintenance. There are various applications where FRP gratings are used such as walkways, overhead platforms and many more. There are two types of FRP grating which are given below:
Molded fiber reinforced plastic grating: This type of grating is composed of having layers of continuous glass fiber which are directional for the strength with the resin to join the fibers and establish the shape and resistance of corrosion. Due to the bidirectional strength of this type of grating, it can allow the cutouts in the panel around the opening without requiring the additional support, it allows the penetration of the pipe and other types of equipment. It has the high resistance of chemical as well as tolerance of any fiberglass grating.
Pultruded fiber reinforced plastic grating: This type of FRP grating composed of strands of continuous glass which is encased in resin and wrapped in surfacing cover named as the veil which is used to protect the fibers and allow the resin to satisfy the external part of the bar and penetration which is present between the glass fibers. This type of grating has unidirectional strength.
Basically, FRP Gratings India is used when they are safe due to liquid or oil present on the floors. They need the resistance of chemical because of more corrosive environments. Many applications are benefited by FRP grating. So let's study about some applications of it:
Walkways
Platforms
Protective shielding
Machinery housings
Raised floors
Stairways
They are also used in some industries such as bottling lines, food processing plants, lift stations, commercial aquariums, lube oil facilities, shops of plating, facilities of beverages canning, plants of chemical, pulp, and plants of paper and many more. In these industries, it is valuable for its lightweight, its durability and its resistance to corrosion. FRP grating is designed by using highest quality e-glass roving's. There are many key features of FRP grating. Some of them are given below:
Key features of FRP molded grating:
The strength is excellent
Non-conductive
Electromagnetically transparent
Insulated thermally
Easy to install
The resistance of chemical is excellent
Free maintenance
Product life is excellent
Protection is anti-slip
These gratings are available with the coating of a grit-top.
Provide superior traction
Increase the safety of the users
The Features of FRP pultruded grating:
Panel strength is superior.
Provide excellent structural properties
Non- conductive
Electromagnetically transparent
Insulated thermally
Chemical resistivity is outstanding
Free to maintain
Product life is excellent
The temperature of the deflection is high heat.
Protection is anti-slip.
Outperforming most polyester
And many more. Features of both of these are almost the same. Now let's study advantages of FRP grating India:
Installation is easy
The resistance of fire and corrosion
Lightweight
Maintenance is zero
Anti-slip
Strength is high
Impact resistance