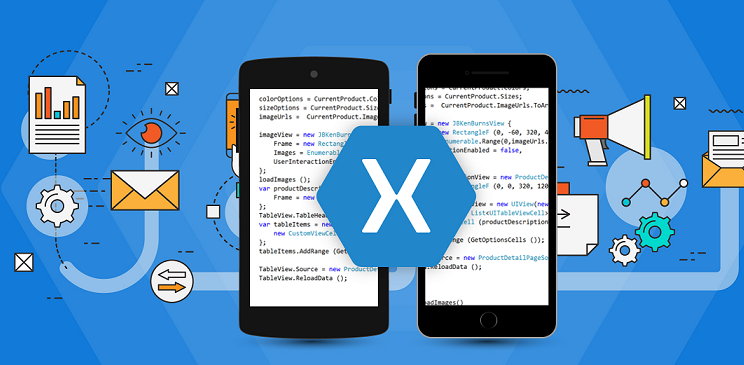 Xamarin stands tall and the most preferred cross-platform mobile application development base. It is tried and tested to deliver best apps for native operating systems. The most popular operating systems such as iOS, Android and Windows operating systems support Xamarin base developed apps. They are also known for their rich user interface features. Xamarin cross-platform mobile app development stands a base for mobile specific app development. They are built with a stability to work across mobile devices and offer simplified mobile application creation.
Initially, mobile applications were built specifically for a particular operating system (OS) such as an iOS or an Android. As technology advanced, there was a need for developing applications that are OS independent. Software experts were put into a thought mode for developing platforms to develop software applications that will aid in developing mobile apps independent of OS. In today's fast paced world, developing an app for just one particular OS and using it on devices that only support a single OS will not sell among business magnets. Business crowd does not entertain an idea that is limited to or has boundary. Across boundaries with overcrossing a boundary is the need of the hour especially in the mobile app development market.
With Xamarin, there has developed a new platform of software application development. You do not have to just rely upon native software development languages like the C or java. Mobile applications need not be built over a traditional model of software application. Still if you believe you can only use C or java or it is like you know and are comfortable with C and java, then Xamarin platform has a solution for the same as well. It does support traditional language developed software applications by providing features that can directly invoke native language libraries.
Another very unique feature about Xamarin app development in India is that it offers sophisticated cross platform mobile application development support. iOS, Xamarin supports Android and Windows platforms for mobile app development all in one go. Mobile applications are built can be developed as easy as by opening an Integrated Development Environment(IDE). Applications can include combing business logic and basics together. A final round of testing is done and submitted to an App Store. Testing will then be performed on a variety of devices as available within the app. A complete beta lifecycle testing is done. The inputs and results are collated and a final development process is put in place to complete an app.
Xamarin is built using the .Net technology. Applications built using it need to be tested thoroughly before passing over to customers. At the customer level, Beta testing of the application is done and final product is shaped as required. Developers can also use existing .Net libraries. Support for Android APIs and Java APIs is another unique feature of Xamarin app development. The Xamarin platform also supports embedding various other applications such as Microsoft Azure, Parse, SalesForce, and SAP within an app. Integrating such applications to be used in a mobile platform is a great advantage.
Save
Save
Save
Save